"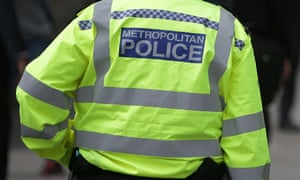 Fast-food delivery driver had corrosive substance repeatedly thrown in face as men tried to steal moped in Walthamstow
A fast-food delivery driver is in a life-threatening condition and likely to lose his sight after two men threw acid in his face while trying to steal his moped, police said.
The 32-year-old man was approached by the suspects, who were on a scooter, at about 6pm on Thursday in Walthamstow, north-east London, the Metropolitan police said.
They repeatedly threw a corrosive substance in his face as they tried to steal his vehicle.
The man was treated at the scene and taken to an east London hospital, where he remains in a life-threatening condition and is likely to lose the sight in both eyes, the Met said.
DCI Gordon Henderson said: "This attack has left a man fighting for his life and with terrible eye injuries.
"This was an innocent man going about his work as a delivery driver, who may never see again."
Another acid attack on a delivery driver, 30 minutes later in Tottenham, north London, was also being investigated. Officers have not established whether the two attacks are linked.
The victim of the second attack, also a 32-year-old man, was approached by two men on a scooter who sprayed a corrosive substance in his face as they tried to steal his moped.
He was also treated in hospital but his injuries are not believed to be life-threatening or life-changing.
No arrests had been made.
The home secretary, Amber Rudd, said last month that the sale of the most corrosive substances to under-18s is to be banned under police powers.
Rudd wants to create a new offence of possession of a corrosive substance in a public place, modelled on the existing ban on carrying a knife, which has a prison sentence of up to four years.
"Acid attacks are absolutely revolting," she told the Conservative party conference. "You have all seen the pictures of victims that never fully recover. Endless surgeries. Lives ruined. So today, I am also announcing a new offence to prevent the sale of acids to under-18s."